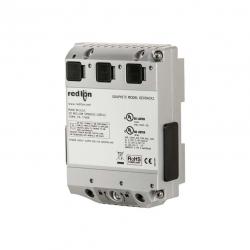 Specifications:
Easily panel mount the I/O and communication capabilities of Red Lion's Graphite® platform using rugged USB modular expansion racks. Rugged Graphite expansion racks allow for easy back-of-cabinet mounting and support for additional plug-in modules without extensive wiring. These expansion racks work with the Graphite platform to provide a scalable solution that enables organizations to connect, monitor and control more industrial processes.
Standard racks mate directly to the wide rack through a connector that provides power and communication to all the modules. One wide rack and three standard racks can be installed together with each Graphite HMI or controller for a maximum of twenty modules per tethered connection.
Standard expansion rack mates to wide rack
3 module slots per rack
Document Downloads:
Product Manual
Dimension Drawing
Data Sheet
Online purchasing is not available in this region. Please click here to locate a Red Lion distributor in your area.
This product is currently unavailable for online purchase. Please contact Customer Service at +1 (717) 767-6511 or customer.service@redlion.net for more information.