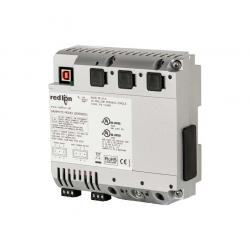 Specifications:
Easily panel mount the I/O and communication capabilities of Red Lion's Graphite® platform using rugged USB modular expansion racks. Rugged Graphite expansion racks allow for easy back-of-cabinet mounting and support for additional plug-in modules without extensive wiring. These expansion racks work with the Graphite platform to provide a scalable solution that enables organizations to connect, monitor and control more industrial processes.
The wide rack, which is required for all expansion applications, is tethered via USB cable to Graphite HMIs or controllers. It also has a filtered power supply to help provide clean power to the attached HMI in case of poor or fluctuating conditions.
Wide expansion rack includes USB host and power for connected modules
Filtered power supply for module and Graphite platform
3 module slots per rack
Document Downloads:
Product Manual
Dimension Drawing
Data Sheet
Online purchasing is not available in this region. Please click here to locate a Red Lion distributor in your area.
This product is currently unavailable for online purchase. Please contact Customer Service at +1 (717) 767-6511 or customer.service@redlion.net for more information.