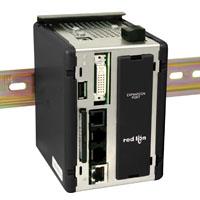 Specifications:
Ready to Deploy Plant Floor Visualization System
Creates Hi-Definition Key-Performance Indicator and Andon Message Boards
720P DVI Output Supports 720 or 1080 TVs with DVI or HDMI Interfaces
Supports up to 16 CS-Series Modules to Accept Digital and Analog Signals
Includes 2GB Compactflash® Card for Recording KPIs and Andon Events
32-Bit Floating Point Math Allows Creation of Virtually any Key Performance Indicator
Includes HDMI Cable And HDMI/DVI Adapter to Support any PC or Monitor
Protocol Conversion Feature Converts Numerous Protocols Simultaneously
Extensive Built-in Driver List Allows Easy Data Mapping to PLCs, PCs, and SCADA Systems
2  RS-232  Serial Ports
1 RS-422/485 Serial Port
10 Base-T/100 Base-TX Ethernet Connection Can Connect To Multiple Devices Via Up To 10 Protocols Simultaneously
Independent Serial Ports Provide Virtually Unlimited Integration Methods
CompactFlash ® Slot Allows Process Data to be Logged Directly to CSV Files
1280 x 720 Virtual HMI Offers Built-in PC-based SCADA Functionality
Webserver Provides Worldwide Access To Data Logs And Virtual HMI
Alarm Notifications can be sent via Email or Text Messages
Syncs Data Logs to FTP Servers and Microsoft SQL Server®
USB Host Port to Move Files To and From CompactFlash Card Without a PC
We invite you to search Red Lion's comprehensive Agency Approvals database to access UL, CE, RoHS, CSA and FM information for our industrial automation and networking products.
Click here to download the ProducTVity Station demo database.
Accessories
Click on the accessory types below to view accessories related to this product.
Batteries
Modules
Option Cards
Replacement Parts
Solid State Relays
Online purchasing is not available in this region. Please click here to locate a Red Lion distributor in your area.
This product is currently unavailable for online purchase. Please contact Customer Service at +1 (717) 767-6511 or customer.service@redlion.net for more information.