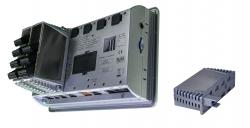 Specifications:
One Strain input module for the Graphite® HMI products
Single loop PID control with reduced overshoot
Analog and solid state outputs
Load cell, pressure and torque bridge inputs
Selectable low level inputs (20 mv, 33 mv or 200 mv full scale)
Software selectable 5 VDC or 10 VDC bridge excitation
Digital tare (re-zero), batch totalizer, and peak/valley (max/min) recording
On demand auto-tuning of PID settings
DC analog output
Online purchasing is not available in this region. Please click here to locate a Red Lion distributor in your area.
This product is currently unavailable for online purchase. Please contact Customer Service at +1 (717) 767-6511 or customer.service@redlion.net for more information.