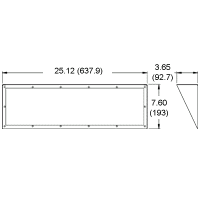 Specifications:
The optional EPAX Display Shroud enhances the readability of the Displays that are installed in areas with high intensity overhead light sources. The Shroud can be used with the EPAX Display in any installation, (panel mount, NEMA 4/IP65 Enclosure, or Universal Mounting Bracket). When properly assembled, the Shroud will not affect the integrity of a NEMA 4/IP65 installation.
Online purchasing is not available in this region. Please click here to locate a Red Lion distributor in your area.
This product is currently unavailable for online purchase. Please contact Customer Service at +1 (717) 767-6511 or customer.service@redlion.net for more information.