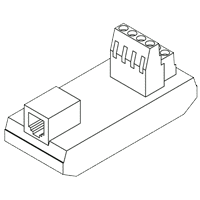 Specifications:
This adapter converts modular RJ-style connectors to terminal block connectors, providing a rugged means by which st and ard shielded cabling can be used in lieu of flat, unshielded cable. The DRRJ11T6 can be used with RJ-11 or RJ-12 cables. The adapter is designed to mount on any st and ard DIN rail.
Online purchasing is not available in this region. Please click here to locate a Red Lion distributor in your area.
This product is currently unavailable for online purchase. Please contact Customer Service at +1 (717) 767-6511 or customer.service@redlion.net for more information.