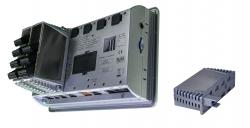 Specifications:
Dedicated High Density Temperature Input Modules for the Graphite® Series
Up to 6 RTD inputs
Resolution - Full 16-bit
Sample Time: 67 msec - 400 msec 
Unused Inputs can be Disabled to Increase Overall Reading Rate
Ideal for Data-Acquisition Applications
Can be used in conjunction with any Graphite Modules
Online purchasing is not available in this region. Please click here to locate a Red Lion distributor in your area.
This product is currently unavailable for online purchase. Please contact Customer Service at +1 (717) 767-6511 or customer.service@redlion.net for more information.