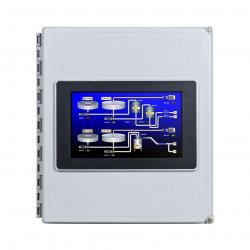 Specifications:
Compression-molded fiberglass has outstanding chemical- and temperature-resistance qualities and exhibits excellent weatherability and physical properties.
Fiberglass is easily punched, drilled, filled or sawed
Gasket assures water-tight and dust-tight seal
Polyester mounting brackets and stainless steel attachment screws are provided
Hinged cover with Type 316 stainless steel hinge pin
Screw-cover secured with two captivated Type 316 stainless steel slotted cover screws
Document Downloads:
Installation Guide
Online purchasing is not available in this region. Please click here to locate a Red Lion distributor in your area.
This product is currently unavailable for online purchase. Please contact Customer Service at +1 (717) 767-6511 or customer.service@redlion.net for more information.