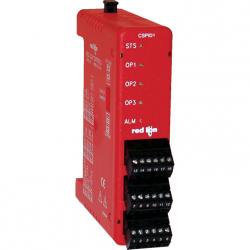 Specifications:
Dedicated single and dual PID modules for the Modular Controller series
Hot-swappable replacement reduces downtime
Auto addressing minimizes configuration time
Fully isolated design provides reliable operation
Pid control with reduced overshoot
Universal inputs accept tc, rtd, 0-10 v and 0/4-20 mA signals
On demand auto-tuning of PID settings
DC analog output (optional, CSPID1 only)
Heater current input (optional) ensures detection of heater circuit failure
Windows® configuration software
Process Control Module Type:
Process Control Output Type:
Online purchasing is not available in this region. Please click here to locate a Red Lion distributor in your area.
This product is currently unavailable for online purchase. Please contact Customer Service at +1 (717) 767-6511 or customer.service@redlion.net for more information.